Bed bugs (Cimicidae) have been with us since man's earliest days and were introduced in Philadelphia and other parts of the county by the early explorers and settlers of this county. Bed bugs are parasites that live on the outside of the host. They feed off the blood of warm-blooded mammals, primary humans, but will also attack birds and other mammals. This insect derived the name "bed bug" from their preferred habitat inside homes and especially beds where people sleep. Mainly active at night, bed bugs can go unnoticed feeding off the host.

Once inside the home, they become established in cracks and crevices generally preferring to nest near their hosts. This includes mattresses, box springs, bed frames, and upholstered furniture such as coaches.
They can also nestle in window and door moldings, inside floors, behind walls and can be introduced into your home via luggage, clothing, bedding and furniture. Bugs and eggs can also be brought into a home via a pet or nearby dwelling if there is an easy travel route.
Identifying bed bugs: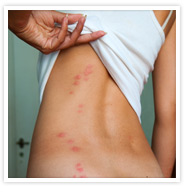 The common bed bug is a wingless, red-brown, blood-sucking insect that grows up to 7 mm in length.



Bed bugs are characterized by a sweet odor described as smelling like almonds or overly ripe raspberries.



Aside from bed bugs bite signs, look for reddish brown fecal deposits where they congregate as well as blood smears on sheets.
Bed bugs treatments:
An effective Philadelphia bed bugs treatment always starts with a thorough inspection. Our trained Philadelphia bed bug exterminators know exactly where to look to identify and treat bed bug hiding places.

With the introduction of DDT in the late 1930's, bed bugs were treated effectively well into the 50's and 60's. DDT is no longer available due to an evolving regulatory environment. This may have contributed to bed bug reemergence; however, there are now safer treatments used to eliminate the bed bugs problem.

We take great care in implementing safe treatment methods for removing bed bugs in Philadelphia homes, and we ensure that bed bug pesticide exposure is kept to a minimal when treating your mattress, furniture, etc. In the case of treating Infant bed and bed frames, we recommend replacement and do not treat those items at all.

Bedding is not treated and should be washed or dry-cleaned.
Next Steps:
In order to treat a bed bug situation effectively, it is imperative you consult with a trained Philadelphia pest control professional that can evaluate and eliminate the problem safely. Enterprise Exterminating is a Philadelphia bed bugs specialist trained to identify and neutralize the bed bugs trouble regardless of severity. Call 215-849-7070 today! 24/7 service!

For additional bed bug information, please visit the National Pest Management Association's AllThingsBedBugs page by clicking here.